Think of your business as a story. The plot is all about getting the characters to find you, like what they see and buy your product. The characters are people sitting at their computers, just ordinary people…and your keywords are the script. As we saw in the previous post in this series, you have to become a mindreader to build an effective keyword strategy. Incorrect or restrictive assumptions about your target audience will kill your campaign. But there is a way of overcoming this obstacle.
Creating Characters
Return to your story. Who might your characters be? What do they look like? How do you imagine them speaking? Where do they hang out on the web? What's their income?
Let's say you are an online retailer of eco products and you are setting up a campaign to promote your range of affordable water-saving devices for the garden. In the past, being an eco specialist, you have only really targeted that market. Who have you been neglecting? An initial lateral brainstorm just around the product phrase itself gives you a whole consumer spectrum that is nothing to do with earth-conscious ex-hippies…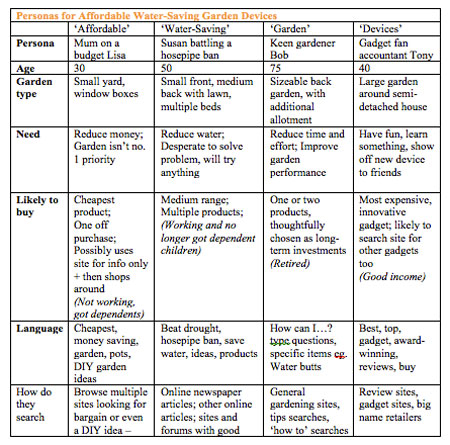 So, now you have created your little group of imaginary friends, let's have a chat with them. Bring them to life and assess them in exactly the same way you make those split-second judgements about people who come to your shop or call up your office.
• Tony is a great potential customer – he has a positive interest (the only one not looking to reduce or save anything), a high disposable income, and will seek external validation of his purchase by talking about it. He is called a focal persona. Focal personas are loyal, come back again and again, spend a lot, and are your brand advocates. Pursue them with your campaign, and keep them happy.
• Bob is worth holding on to as well. He may have less income, but he is likely to be very loyal, and he brings with him a large network of fellow gardeners – a potentially ready-made market.
• You may like the sound of Lisa, but she is bordering on an exclusionary persona. She doesn't want to spend money, she doesn't have a desperate need and she'll leave you if she finds someone cheaper. Don't pursue this category. They'll either waste your time, sap you of information and never buy, or they'll use your services and never pay / make loads of complaints / be a pain in the proverbials.
Ian Lurie's series on persona-building is a must-read, complete with samples of personas he has created, which – at 2 pages long per person – demonstrate the amount of fleshing out you can do for your characters. In addition to the focal and exclusionary personas, Ian adds an 'eh' category – the inbetweeners who "buy quickly but never come back, vote for you once and then hate you forever, or they're a poor match for your brand". While you might not be fussed if they don't come back, there's also scope to win them over by targeting a segment of them to convert into focal personas. Watch him in conversation with Rand Fishkin at SEOMoz for all you need to know about personas.
How to Use this Information
Use your personas to build keyword bucket lists. For each persona, create six categories: two prefixes, two root words and two suffixes. The prefixes may be indicators of search intent or purchasing power – so if Prefix 1 is 'Buy' then Prefix 2 may be 'Cheap', 'High Quality' or 'Professional'. Similarly, Prefix 1 might be 'Compare', giving you a Prefix 2 list for the budgeting persona of 'affordable', 'inexpensive' or 'bargain'. Root words are generally product names or specific nouns, while suffixes may be locations or specify 'shop' or 'online'. David Szetela lays out a handy spreadsheet example of this here.
Previous Posts in this Series:
The We Are All Connected Guide To Keyword Research: Part 1
Keyword Research Part 2: Thinking About Your Business
Keyword Research Part 3: Become a Mindreader
Keyword Research Part 5 – Putting (Key)Words In Your Mouth
Keyword Research Part 6: The Tools
Keyword Research Part 7 – The Final Measure