A huge part of what we do at We Are All Connected involves content strategy. And for us, a huge part of any digital content strategy has to be a good quality blog. As our name suggests we're all about connectivity and there are few better ways for brands to connect with their marketplace than by blogging.
Producing great content for the web, however, is a difficult art. It requires attention to tone and voice, a visual flair, the ability to tell stories which engage, and a close understanding of the needs of an audience that is – by dint of the digital medium – rapidly evolving. So it was with a certain relish that I approached the chance to delve into the content marketing strategies of some of our favourite brands to see what they were up to. Here are our top 5.
Pukka Herbs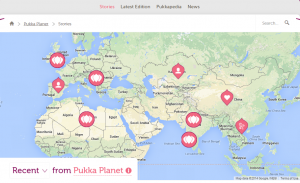 Our office in Brighton is constantly stocked with Pukka teas, and we're big fans of this conscious business which has single-handedly put Ayurveda on the map in the UK. While their roots lie in organic agriculture and herbalism, their digital presence suggests an equal facility with blogging and communication, as demonstrated by their inspired Pukka Planet section.
Why we love it: The map with clickable stories not only provides a fun user experience, but reinforces the message that this is a brand with global reach, diverse products, and a holistic mindset. Below the map the browser can refine the stories by people, plants, planet, wellbeing or video. These category titles further reinforce the Pukka brand.
What we like most about this however are the stories. You can read articles on fair trade, on Indian farmers who grow particular spices, or on the founders of the business. Illustrated with colourful images of herb plantations and mountains, these stories engage the reader in the origins of the company, the passion of the founders, and the company's commitment to sustainable farming practices.
Dorset Cereals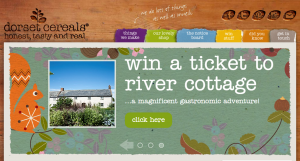 Creators of some of the planet's tastiest cereals, Dorset Cereals also run a world class website that uses content creation to stunning effect. Set against a wood grained background, even the navigation tabs look like strips of torn paper, conveying the sense of a business which, despite boasting profits of over 15 million annually (ref), has cottage industry roots.
Why we love it: Few companies use competitions as cleverly as Dorset. Offering truly staggering prizes like a VW bus or a £50,000 piece of woodland, the website keeps inviting the user to interact with the promise of reward, reinforcing brand values in the process. Prizes such as a ticket to River Cottage or a piece of woodland align Dorset Cereals with ecological responsibility and the British countryside. To enter the competition you must enter the special code from a packet of their cereals, which means you not only have to purchase their products but you have to give them your email address too. All this is combined with excellent use of social media, their Instagram marketing alone could warrant a whole article!
Patagonia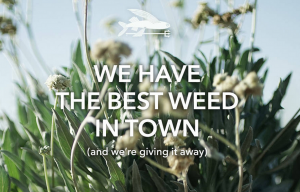 Few companies have put corporate social responsibility so firmly on the map as outdoor clothing brand Patagonia. Their website shouts 'honesty' with its workplace codes of conduct, environmental health and safety policies and totally transparent supply chain. Their brand has a clever dual identity: aligned on the one hand with big wave surfing, mountaineering and trail running, and on the other with the alternative culture of organic farming and responsible business.
Why we love it: The image above, 'We Have the Best Weed in Town', clicks through to an article about Guayule agriculture, a hearty desert shrub native to the southwestern United States that provides a core ingredient of Patagonia wetsuits. With its clever visual hook, the pun on weed not only gives a knowing wink to counterculture but undoubtedly encourages people to click through to find out what's on the other side!
Despite the slightly unusual permalink: http://www.patagonia.com/eu/enGB/patagonia.go?assetid=93910 (what's up with that Patagonia?) the article you click through to does a great job of establishing both the ecological credentials and the technical efficiency of Patagonia wetsuits. This is a masterclass on how content marketing can lead into direct sales.
All Good Organics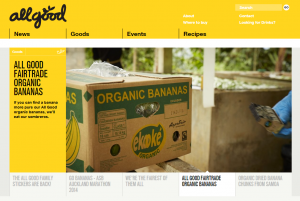 New Zealand company All Good Organics have recently been voted as the Fairest Trader in the world by Fairtrade International. Oh and that's in addition to having been voted one of the world's most ethical companies by New York think-tank Ethisphere. Their website has an upbeat Kiwi vibe which makes liberal use of colourful photography, competitions and words like 'stoked'!
Why we love it: The All Good blog tells compelling stories around the brand vision. There's in depth reportage from the places they grow their bananas, most of which highlights the benefits that come from the Fairtrade Premium. Nice use of video on their story page here, and a gallery of clickable Facebook timeline photos encourage interaction with their social media channels. All Good must also be the first banana company in the world to package their fruit with 16 different stickers which, if collected and pasted in a special sticker book give you the chance of winning a holiday.
Divine Chocolate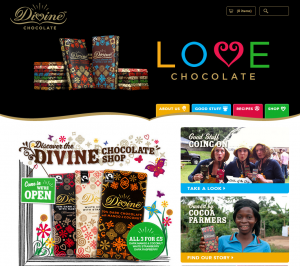 45% owned by the cocoa farmers themselves, Divine Chocolate has a website which packs as much punch as their chocolate bars. The 'good stuff' section of the site showcases their competitions, events (such as a chocolate demo at Wholefoods), the ethical and fair trade business awards they've won, and their latest news.
Why we love it: Divine Chocolate's editorial navigates nimbly between industry news (such as cocoa farmers voting for a new executive committee), travel stories to the farms, and a range of cocoa-inspired competitions. Just a glance down the page illustrates Divine's passion, knowledge and social responsibility, while also offering a real connection with the producers themselves.